NEWS | CHARACTERISTICS | PREVIEWS | EVENTS
By Ilene Dube, JerseyArts.com
originally published: 02/03/2022
In 62 years, there's not much Rhinold Ponder hasn't accomplished.
He was a lawyer, writer, activist and curator; he started nonprofits (Art Against Racism) and saved others (The Crossroads Theater of New Brunswick, where he served as chairman of the board for 10 years). He has a plethora of degrees – after studying political science at Princeton University, he went on to earn two master's degrees, one in journalism and the other in African-American history, before completing his law degree. Married to former Princeton Township Mayor Michele Tuck-Ponder, Rhinold co-parented two young adults, one of whom recently became an on-air reporter for CBS Chicago, and the other is still in high school.
Always motivated, Ponder is also an accomplished artist. His current exhibition, Overcoming: Reflections on Struggle, Resilience and Triumphis on view at Princeton Arts Council until March 5.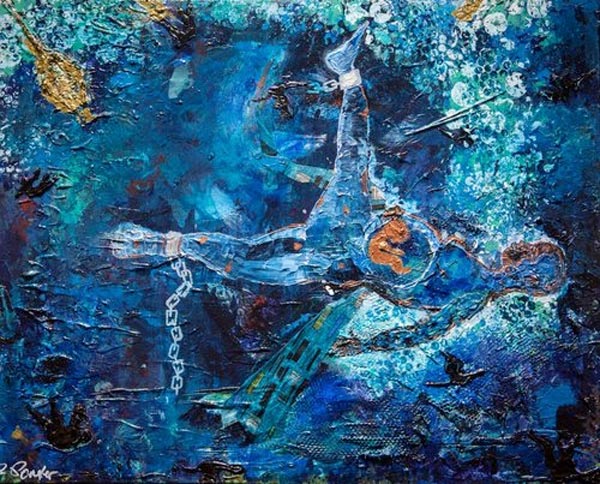 Rhinold Ponder, Maafa Ghosts of the Atlantic IIImixed media acrylic, 30in x 40in, 2018.
Inspired by Dr. Martin Luther King Jr.'s "We Shall Overcome" proclamation, these paintings "provoke a reflection on the resilience of black people in their continued struggle for recognition of their humanity and reclamation of human rights", said declared Ponder in an artist. declaration.
He admits that he cries while painting. "Sometimes joyless. Sometimes painfully. But my emotional response during the creative process always lets me know when my work has a chance to touch someone else.
Advertise with New Jersey Stage for $50-$100 per month, click here for more info
---
Although the exhibition fills a small gallery space, the emotions it evokes reverberate beyond the building. In "Maafa: Ghosts of the Atlantic III", we see a figure underwater with leg irons, a fetus in the belly.
Maafa is a Kiswahili term meaning great disaster or terrible event, referring to the Middle Passage or the transatlantic slave trade in which millions of Africans were killed.
"In teaching American history, we ignored the atrocities that dehumanized people," Ponder says. "I wanted to find humans lost in such large numbers. This account of a chained woman drowning with a child leads me to ask, "Did she escape? Is she trying to free her child? Or was she thrown overboard?
Throughout the murky waters we see shadowy skulls and ghosts. It's a beautiful rendition of the sea, until you get closer to see what's really going on and it gets painful.
"I try to make the ugly as beautiful as possible to attract you to it and make you think," explains the artist.
Talking about it, tears well up. And tears also came to this writer, both seeing the works for herself and hearing Ponder talk about them.
"We know about the atrocities that happened in the beating of people in slavery," he says, "but we don't have the footage. I wanted to show the back of a human being who had been beaten and whipped.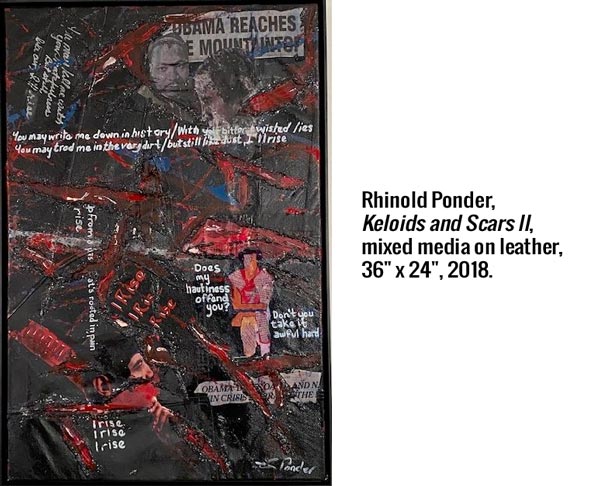 For "Keloids and Scars I" and "Keloids and Scars II," made on "whipped leather," he sourced leather coats from resale stores, cut them up, and hired Michele, a quilting artist , to assemble them on a stretcher. He hung the webs from the branch of a tree in his garden and literally whipped them until keloids and scars formed on the skin. He filled these wounds with red and gold paint. "It wasn't a fun experience," he says, trying to hold back more tears. "I wanted to pay attention to my emotions and be fully in the experience. I found a surge of power and anger that led me to beat him again and again.
As a child, Ponder had been spanked "often for the wrong reason and out of anger". This made him think about the emotional state of a person who would do this to get someone to obey. "I can't explain the euphoria. I did not expect that. I don't see that as a positive thing.
In "Hands Up Don't Shoot," begun before the murder of George Floyd, Ponder painted signs of police shootings at unarmed black people "but couldn't keep up." What caught his attention was that shots were fired repeatedly. "Their targets were dehumanized and their infliction of pain heightened their emotional elation."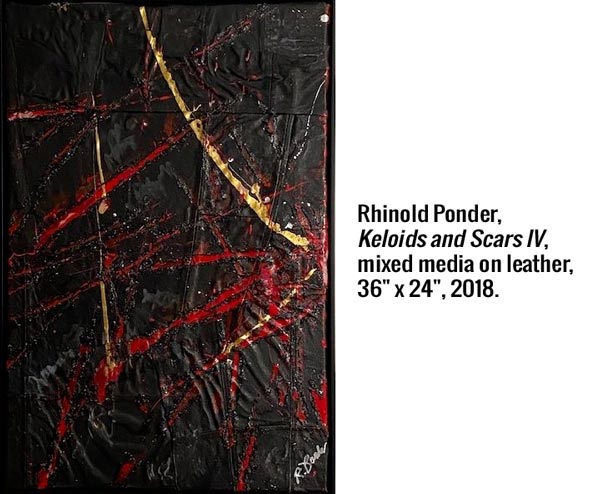 But there is hope. "Despite the blows, the terror, there was triumph. Black Americans can still live joyful lives and participate," he says.
Advertise with New Jersey Stage for $50-$100 per month, click here for more info
---
In "Love Theory I", we see bronze-skinned women and girls dressed in white skirts, white leotards, white headbands, white gloves, raising their arms to the white doves flying above their heads. . It was inspired by a praise dance at First Baptist Church in Princeton. Embedded in the collage are torn snippets of text from outdated copies of books on African American sermons that Rhinold and Michele published in the 1990s, "Wisdom of the Word: Faith" and "Wisdom of the Word: Love " (Crown).
"I'm not religious, but the church has been a big part of my life," says Ponder, whose father was a pastor. Church attendance was compulsory when he was growing up. "The church was more than a building – it was a call of faith within the community. Sermons contain some of the greatest stories.
The cut-out words are a continuous pattern in his painting, including Maya Angelou's lines ("I'm up, I'm up, I'm up") and newspaper headlines such as "Obama Reaches the Top of the Mountain". In "Abstract Tulsa", the band-aids cover the N-word in various headlines about the massacre against African Americans and the government cover-up.
"Bandages only partially solve pain problems; the wound still exists," says Ponder.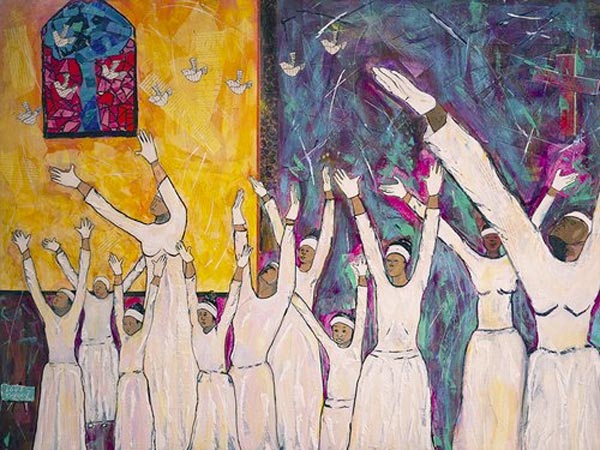 Rhinold Ponder, Love Theory I", mixed media (acrylic and paper), 30″ x 40"
Growing up as the eighth of 11 siblings, "my mother raised us on her own and sent all of her children to college" at such prestigious institutions as Princeton, the University of Chicago, the University of Pennsylvania, DePaul, New York University and Yale. He thanks his mother for inspiring him to do what he loves.
He happens to like to do a lot of things. In addition to writing political essays for The New York Times and others, he has been writing poetry since high school, when he won a poetry prize from Gwendolyn Brooks.
As he finished his law practice, he became a founding member of Princeton Makes, where he has a studio to work on larger canvases. And with Judith K. Brodsky, he's co-curating an exhibit for the Princeton Arts Council, set to open Oct. 20, about a group of overlooked mid-twentieth-century black artists working in Princeton and the surroundings.
With OvercomePonder itself is unlikely to be overlooked.
The cover photo image includes tulsa bandaged (cropped).
---
About the Author: Ilene Dube is a writer, artist, curator and filmmaker.
Content provided by Discover Jersey Artsa project of the ArtPride New Jersey Foundation and the New Jersey State Council on the Arts.