By David D'Arcy
If you're in New York this week, there's plenty of art to see. Just steps from the Metropolitan Museum is a sight you'll probably never see again. You can visit it for free. It closes this weekend.
The spectacle, hardly noticed by the press, is Pompeii in color: the life of Roman paintinga marvelous selection of paintings from over 2,000 years ago, at New York University's Institute for the Study of the Ancient World.
If you've visited the Met's Greek and Roman galleries, you've probably seen a few images of such frescoes – where paint was applied to cool, wet plaster – but not the variety of more than 30 works featured in this exhibition.
These images decorated homes and interiors in Pompeii, which was covered in volcanic ash in 79 BC. At first glance, these images may appear to you as muted-colored hallucinations: they appear pale at first glance. Look at them any longer and the figures in these paintings take on an eerie presence. We see mythological scenes and families at home. There are groups of aerial erotes (cupids, putti of the Roman Empire) and still lifes in colors that are still attractive after 2,000 years.
The exhibition presents two versions of Achilles on the island of Skyros. The story behind these scenes is not included in Homer's Iliad. A prophecy decreed that the Greeks would subdue Troy, but Achilles was destined to be killed on campaign. In order to spare him, the young man's mother, Thetis, sent Achilles to Skyros and had him dressed as a girl. The Greeks, led by Ulysses, seize it and take it to war. A painting of Odysseus' arrival resembles a set of portraits of the figures involved, including the women of the court where Achilles was in disguise. Another image captures the drama of Achilles kidnapped by the Greeks – fate is set in motion.
History, mythologized or not, is not always worthy. Pompeii is best known – beyond the art world – for its eroticism. The paintings in Pompeii in color were shown inside homes, often by their owners to guests, at wine-flowing gatherings. No surprise, the drink is often the subject of paintings. So are drunks.
One image that visitors will not forget, and not just because it is the largest and one of the best preserved in the exhibition, is that of Queen Omphale of Lydia (now in Turkey), who purchases Hercules – yes, Hercules – to a slave walked and exchanged clothes with him when he was drunk. The hapless tipsy Hercules, bare-chested to below the waist and held upright by an old man, stands alongside Omphale, who wears his signature lion clothes and skin. She also holds her club – guess what that refers to. She looks a lot like Italian film actress Anna Magnani when she looks at her body, which glows from the wine it has consumed. In the Renaissance, some 1,500 years later (and ever since), Hercules is generally depicted as a triumphant hero. This is not the case in this encounter with Omphale: an impertinent child blows pipes in the warrior's ear while other erotes taunt the man while playing. The huge Hercules seems too drunk to notice.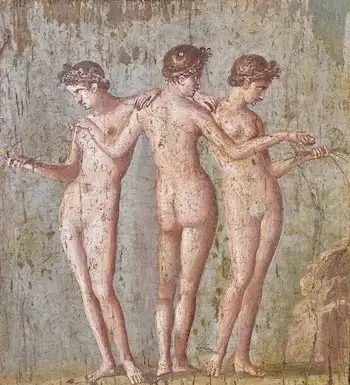 The colors throughout the show tend to be muted, which is no surprise after two millennia, but probably less muted than they would have been had Pompeii not been buried in ash for a so much of this period. In the sculptures of the time, which would have been painted at the time, we find (with rare exceptions) the chilling hue of marble.
We can particularly appreciate the use of color in The three Graces, figures of adolescents known to us since antiquity (originating in Greece) and the many representations (mainly in sculpture) that have come down to us since then. In the painting, now shaded, the three girls are intertwined, statuesque enough for us to feel the balance of their poses, but painted with a delicate complexion and ambiguous expressions that would have been almost impossible to replicate on stone. The resonance of the stage is everywhere in Western art, from Cranach to Canova. I thought of the girls with impassive faces by Georges Seurat The models ("Les Poseuses") from 1886 to 1888 at the Barnes Foundation. Visitors to the show are sure to make their own associations.
This is the second leg of the exhibition in the United States. It opened in a slightly different version in Oklahoma City; a video made there is a useful introduction.
The nearby Met is planning an exhibition on painted sculpture from antiquity, which will be a revelation for those accustomed to looking at bare stone figures. This show opens July 5. The exposure to take first is Pompeii in color. It closes on Sunday.
---
David D'Arcy lives in New York. For years he was a programmer for the Haifa International Film Festival in Israel. He writes about art for numerous publications, including the art diary. He produced and co-wrote the documentary Portrait of Wally (2012), about the fight over a painting looted by the Nazis found at the Museum of Modern Art in Manhattan.