I visit Tafy LaPlanche (American, b. 1991), dynamic, talkative and very savvy, in her spacious studio upstairs at the City Market Art Center in Savannah. (Tafy is short for Tiffany; her mother loved the movie Breakfast at Tiffany's and knew her daughter would be a beautiful gem.) We meet to discuss her prestigious acceptance as Jepson's next Boxed In/Break Out artist.
Having only recently begun her journey as a painter during the pandemic, this young woman's meteoric rise in the art world is more than impressive. Here is his story…
LaPlanche first developed her passion for portraiture during a hospital stay when she was 13 years old and had just been diagnosed with type I diabetes. art, she began making portraits of her nurses and visitors in an anime style, the only art form she was familiar with.
This style remained until her mother enrolled her in a community art school in Flushing, NY, where she mastered still life and portraiture, eventually drawing from live models in pencil and charcoal.
"It was there that I developed a love for this medium. Even today, figure work on large pieces for the Jepson is rendered in charcoal.
Later, at LaGuardia, the public high school in New York specializing in visual and performing arts, LaPlanche began to paint in oils, using color, and had the opportunity to take a course in landscape painting. in Italy. Despite her Haitian father's encouragement for the genre, landscapes had never "connected" for her, but, she thought, "maybe I'll connect in Italy!"
It tells the story of a hike on an Italian hill and the discovery of a field of sunflowers. She set up her easel, and soon her vision began to blur. She had been stung by a bee on her eyelid. Fortuitously, an elderly Italian woman helped her, took her home and placed half an onion on her eye. As the woman took care of household chores and fed her chickens, LaPlanche's vision eventually returned to normal.
"I realized that was what I had to capture. This moment. This woman." Today, "portraits are my joy", she says, "they are my life".
LaPlanche went on to double major in painting and photography at the Maryland Institute College of Art.
"I really fell into photojournalism, capturing people's stories in a different medium. I loved being in the darkroom and the creative process.
After a brief stint in "the super-edited fashion world" where "my heart just died", she returned to photojournalism and started a career as a flight attendant at Delta to help fund photo shoots. international.
Eventually, she carries her camera gear less often and starts drawing again. "I'm so talkative that I would just sit in a cafe, strike up a conversation with a stranger and sketch him, like when I was in the hospital. Even when I was on the plane, I drew passengers.
Then the pandemic hit. The airlines closed and LaPlanche rented a small studio in New York and returned to painting.
"That's where the 'Las Frutas' series started," she says, "I had never created anything like it before." In a striking series of eight portraits, each of his subjects is surrounded by brightly colored, almost graphic depictions of tropical fruits. "When I did the first painting, it was at a time when I was reconnecting with the paternal side of the family. I was trying to find my place in this Haitian culture. The only thing that reminded me of my past was tropical fruits – guavas reminded me of Puerto Rica and mangoes reminded me of Haiti I knew I wanted to incorporate tropical fruits into the paintings.
LaPlanche recalls, "I was learning how to be an artist during a pandemic and I thought if I could find an influencer on social media it would help me build a following. I found a Congolese model on Instagram who became the face of my second painting. I asked her what fruit she would like in the background, and she chose her native papaya which represents prosperity.
She started looking for people of Caribbean descent on social media because, "At the end of the day, I wanted them to always represent me. I got to know them during our video chat drawing sessions and I I wondered what fruit reminded them of home.
Click to enlarge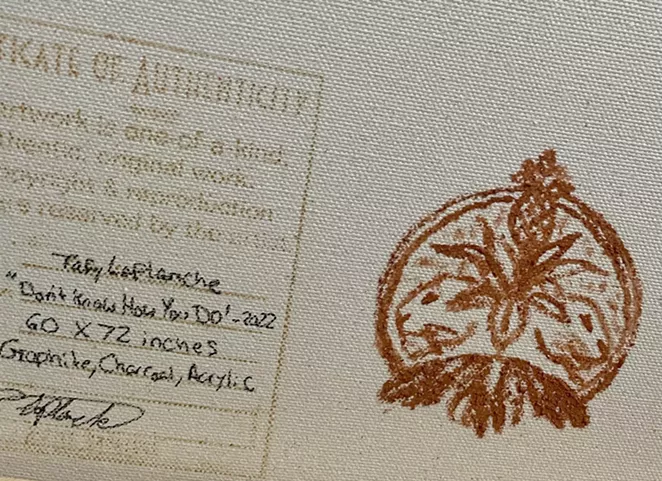 Creating during COVID, LaPlanche scrambled to get her art seen. She submitted work to anything and everything, even if there was no open call… She directly solicited and contacted the artistic directors of the magazines of the publications that attracted her and engaged them in conversations about what attracted them… She created a network of other artists who could share information through chat rooms through the Clubhouse app… She gradually built a network while learning tactics to get her work noticed.
And then, "Things really took off."
LaPlanche was accepted into Saatchi Art's prestigious "The Other Art Fair" in Chicago, the premier artist fair for discovering emerging artistic talent.
"I created a logo, business cards, built a website, got the smallest booth possible and decorated it with gold foil decals. Before I even got to the show, I contacted all the media partners and sponsors of the show and invited them to come to my booth for a giveaway.
The excitement paid off. She sold six of the seven "Las Frutas" paintings and one NFT – "The Exclusive and Secret of the Series". A multi-page spread in October 2021 AfroStyle Magazine soon followed, and one of the show's sponsors, online custom framing company Framebridge, asked him to partner with them for their Black Artists' Print. Shop which takes place every February.
"I got an exclusive print created through them. It's a nice partnership. Same with Saatchi. Some of their curators contacted me after the show and I gave them an exclusive preview of the upcoming series they're on. I was working in. Saatchi later honored her as one of its "22 Artists to Watch in 2022."
The new work LaPlanche showed Saatchi became "N'um", the series of five 5×6′ paintings she will display in Jepson's windows. "When I moved here a year ago, I saw the Jepson window and thought, 'One day I'll be there. I didn't think it would be so soon! His installation proposal resonated with guest judge Hallie Ringle, curator of contemporary art Hugh Kaul at the Birmingham Museum of Art.
"The whole idea came from the fact that I wanted to do something more centered on me. 'Las Frutas' was about other people. I wanted something that was about my relationship with my own culture. People often said to me: " It's this voodoo magic that you do", and I was surprised because I didn't know anything about voodoo.
Wondering what this meant to her Haitian loved ones, she began to do some research. "I always painted white skulls and found that they symbolized healing. And I discovered a healing dance where the dancers carry a dark, indefinable energy into the pit of their stomachs which they eventually release through their heads.
This spiritual energy is called n/um (pronounced numb).
"The energy starts in the stomach and travels up the spine. When it reaches the skull, there is a moment of stillness after all the intensity. This is the moment before taking the path of rebirth It's realizing that you have to let go of negativity in order to move on and heal.
The works juxtapose meticulous charcoal drawing with more fluid brushstrokes. LaPlanche explains that the skeletons painted in the charcoal drawing represent where the n/um is currently located, and the intensifying colors represent the energy that intensifies as the dance progresses.
"The important thing was that you didn't see a face until the very end because I wanted the viewers to feel that movement and the energy until the point where you have to stand still and think. Which is interesting, after doing so many portraits, to only have one in this series.
On the back of each canvas is a seal created from red brick dust, crafted and blessed by Haitian voodoo priestesses in New Orleans.
"I added the sigil to ward off any bad energy – a small tribute to my people."
Next up for LaPlanche is a series on Spanish Harlem "to honor my Puerto Rican side and give a nod to how I grew up in New York," she tells me. "My maternal grandmother lived in Spanish Harlem in the midst of so much vandalism. It got to the point where businesses got so fed up that they hired artists to paint murals of deceased neighborhood people or community icons. The people depicted in art were so respected that no one dared touch them. Even to this day, the murals are still there. I remember these graphic images and felt connected to them. Subconsciously, I think they influenced me in my last two sets of works.
His new series will examine poverty and wealth in New York.
"I want to use a Tiffany blue with oxidized gold or copper foil on it to symbolize prosperity and wealth, but then I have images of local people and businesses in Spanish Harlem – old people playing dominoes in the corner, women with rollers in their hair while shopping. If I like them enough, maybe I'll do a side part of the series describing the Latin community I found here in Savannah.
Until then, check out "N/um" in the Barnard Street windows of the Jepson Center as part of the Boxed In/Break Out exhibitions curated by Erin Dunn, the talented curator of modern and contemporary art at the Telfair Museums. The installation will be visible throughout 2022 and the artist will give an opening talk at Jepson on Thursday April 28 at 6:45 p.m.
Visit Tafy LaPlanche in Studio 6, upstairs at City Market Arts Center and online at lepouf-art.com or Instagram @lepouf_art (Le Pouf, the sensational hairstyle popularized by Marie Antoinette, is similar to the pineapple style that LaPlanche privileges – in addition, she thought Le Pouf/La Planche sounded good!)
Commissioned portraits are available.