I meet Gillian Trask in her small, meticulously curated home studio on the Isle of Hope, curious how this newcomer to the jewelry world will represent the United States, Savannah artists and the Kobo Gallery at the prestigious Milano Jewelry Week this October.
Growing up in New York, New Jersey, and Virginia as the daughter of a government-contracted business owner, Trask graduated from James Madison University with a BFA, then earned a second BFA, with a concentration in Graphic Design, from the California Institute of the Arts.
She had majored in art history and jewelry design at JMU, but ended up following her father's practical advice to pursue a career in graphic design for the financial stability it offered.
However, a career as a freelance graphic designer proved unsatisfying for Trask's creative soul, and by 2010 she had moved to Florida and worked in retail with Jared, the Galleria of Jewelry, eventually becoming a store manager.
Five years later, his father's illness prompted him to move to Hilton Head Island to help his mother care for him.
"Honestly," Trask says, "It ended up being the best decision." She was able to spend time with her family and was with her father when he died.
While on bereavement leave, her store was robbed at gunpoint and this traumatic event, combined with the death of her father, caused her to reassess the direction of her life. She realized, "If I have to do something, I want it to be important. Be something I love. And I want to give back.
"Literally the same week I met my husband Zack," Trask continues, "and signed up for SCAD for jewelry. My goal was to create a recognizable line of jewelry, something that would be uniquely mine, with pieces that I love.
She graduated from SCAD with a Master of Art in Jewelry in 2019, and it was while working on her thesis project that her goal came to light by chance…
"I had been working on this particular piece for three weeks. I was heavily pregnant with my daughter Gabby. It was three in the morning, and I had to show it to my teachers at nine, and I just melted! He just collapsed.
But from this collapse, a new technique was born.
"I had a breakthrough." Trask calls this revolutionary technique, hand sculpting.
Click to enlarge
"I want to push the boundaries of what sterling silver can do by melting it down and then walking that fine line between complete destruction and creating something empowering and unconventionally beautiful."
The jeweler goes on to explain how silver has a wonderful rolling motion when molten and how she sculpts and moves the metal with her tweezers while it's liquid.
Other jewelers use reticulated silver (a technique in which localized heat is applied to the surface of the metal) but "I push and pull the silver as it melts. It's about controlling the heat with air and with different torch tips so I can carve it.
It was this incredibly unique technique that led to Trask's acceptance at Milano Jewelry Week.
"Actually, they contacted me. I think they saw that I received a Top Ten Award from Halstead in 2019." The National Halstead Grant Competition is an annual award for emerging artists in silver jewelry, which "put me on the map of the jewelry world. It was an exciting way to start my first year in business! »
More honors followed for Trask's fledgling business. In 2020, she was named an ambassador for the NYC Metal & Smith Show, an intimate and modern jewelry trade event with a curated selection of independent designers.
Click to enlarge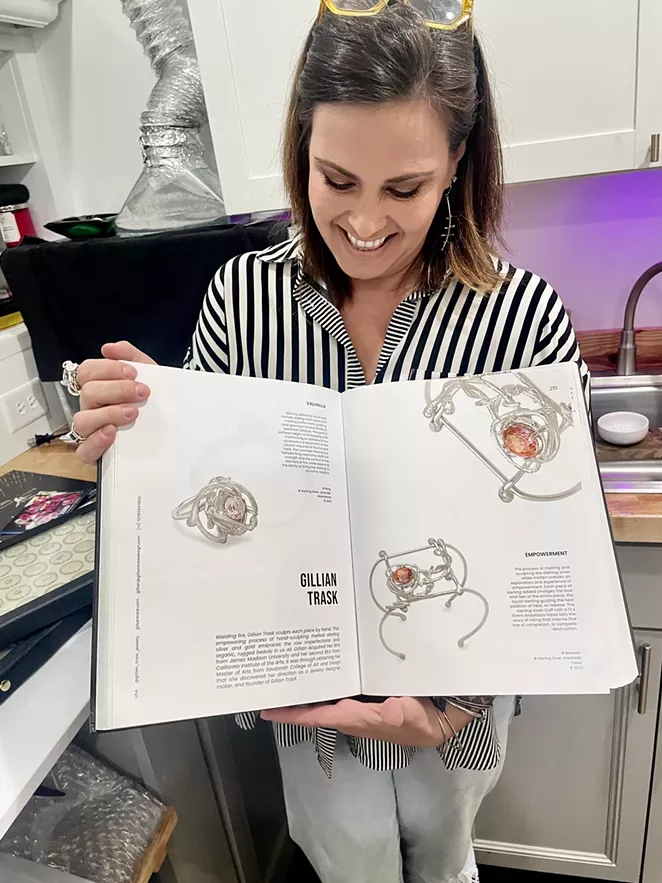 Then she received an honorable mention at the International Design Awards (IDA) 2021 when she and her SCAD intern Ruchita Newrekar collaborated on a "Star Ring", and in March this year she scored a double page spread in the luxury, jewelry and lifestyle magazine, HUESERS.
In the HUESERS article, Trask discussed its business model during the pandemic. She managed online sales and social media, and hosted live shows on Instagram and Facebook. The live-streamed events proved to be her "saving grace," leading to greater exposure for her brand and robust sales at a time when many artists and creators were floundering.
Today, Trask is one of 500 exhibitors from 40 different countries selected to participate in October's Milano Jewelry Week, a highly influential and esteemed event featuring over 200 group and solo exhibitions, vernissages, gallery and exhibition shows. international schools, awards nights, cocktail parties, high-end jewelry workshops, goldsmith workshops, academies, art galleries and fashion and design showrooms spread throughout the city of Milan.
But back to Trask's ambitions to create something she loves and to give back… The award-winning 'Star Ring' is now part of a successful 'Stardust' collection, created with the intention of donating some of the benefits to Savannah's Brightside Advocacy CASA program. (court-appointed special advocates) ensuring that every foster child is cared for.
"I was an adopted baby," Trask says, "I was lucky to be adopted."
In fact, she's so enthusiastic about the cause that she took part in "Dancing with the Savannah Stars" this year, raising $18,000 for a record CASA fundraising total of $225,000.
Trask is also supporting CASA through its recent collaboration with Savannah's line of handcrafted accessories, bags and trinkets Love & Moxie.
The resulting "Raise Them Up" collection is a mix of vintage, classic and edgy. She says, "Think Jackie O meets Joan Jett!" These bold pieces are my personal favorite of her work – especially the asymmetrical sterling silver earrings that incorporate a neon yellow acrylic rectangle and a gold vermeil band that spans three fingers. Definitely sexy. Certainly unique.
Trask loves meeting customers at pop-ups and trade shows; her bubbly and enthusiastic personality lends itself to direct selling. At Plant Riverside's Savannah Christmas Market last year, she made record sales and won several commissions.
She says it's magical to see someone trying out their pieces, transforming and feeling empowered. Ultimately, "I wish I had my own little place. After being able to hang out with people who "got" my job, and after receiving so much love and appreciation, I think I could thrive in a physical space. »
I have no doubt that it will continue to thrive, physical space or not! Between her energy, her social media acumen, her business acumen, her awards and her revolutionary metal sculpting technique, Gillian Trask is on fire.
Discover Trask's pieces at Kobo Gallery, 33 Barnard Street, at Rachel Vogel Designs in Tybee Oaks and on GillianTrask.com. Stay up to date with new work, shipments and upcoming pop-ups on Instagram @Gillian_Trask_Jewelry